September was art therapy month for me, and every time someone brought out negative feelings in me I took refuge in my 1K Cards Project. The best way to vent is creatively, and I did just that. Since I made 221 cards in 27 days I'll let you imagine how often I was angry, annoyed, depressed, etc. On one memorable day, after finding out a contract I'd been patiently waiting three weeks for had been sitting ignored and forgotten and gathering dust on some ex-employee's desk, I made thirty cards (and was polite to the ball-droppers and didn't rip off anyone's head, proof that art therapy can work.)
I got out the paper clay, did a bit of decidedly lame sculpting, and quilted one card I made of clay (and please note I tried to touch up the background of this shot to remove a white glare spot, which is why it looks a bit squicky.) I then discovered that while paperclay may seem dry it can continue to shrink for a couple days, which resulted in my stitching becoming a bit looser. My guild pals thought my attempt to quilt clay was hilarious and are now trying to think up new weird materials for me to quilt (glass I've already done, but liquid? Kind of impossible. Unless you encase the liquid in a sealed plastic pouch with likewise sealed holes . . . hey, after clay I know I can quilt just about anything.)
I painted and painted and painted in September. I painted three larger watercolors and cut them into cards to be reassembled by whoever receives them. I experimented with using oil pastels as a resist with watercolor. I had a blast, basically.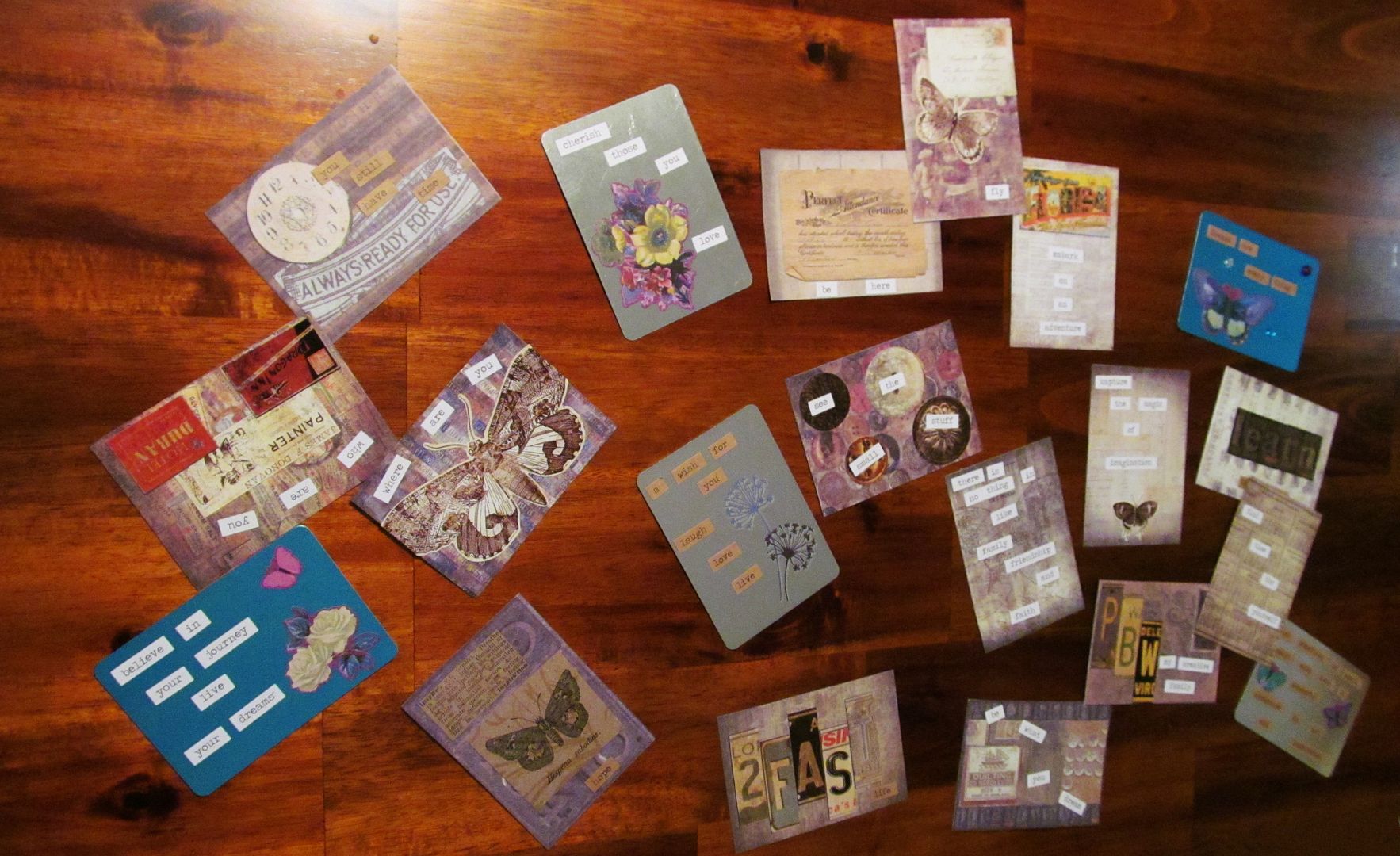 Tim Holtz's
idea-ology line of products
definitely had an impact on my collage work, and I used them on paper and metal cards with great success.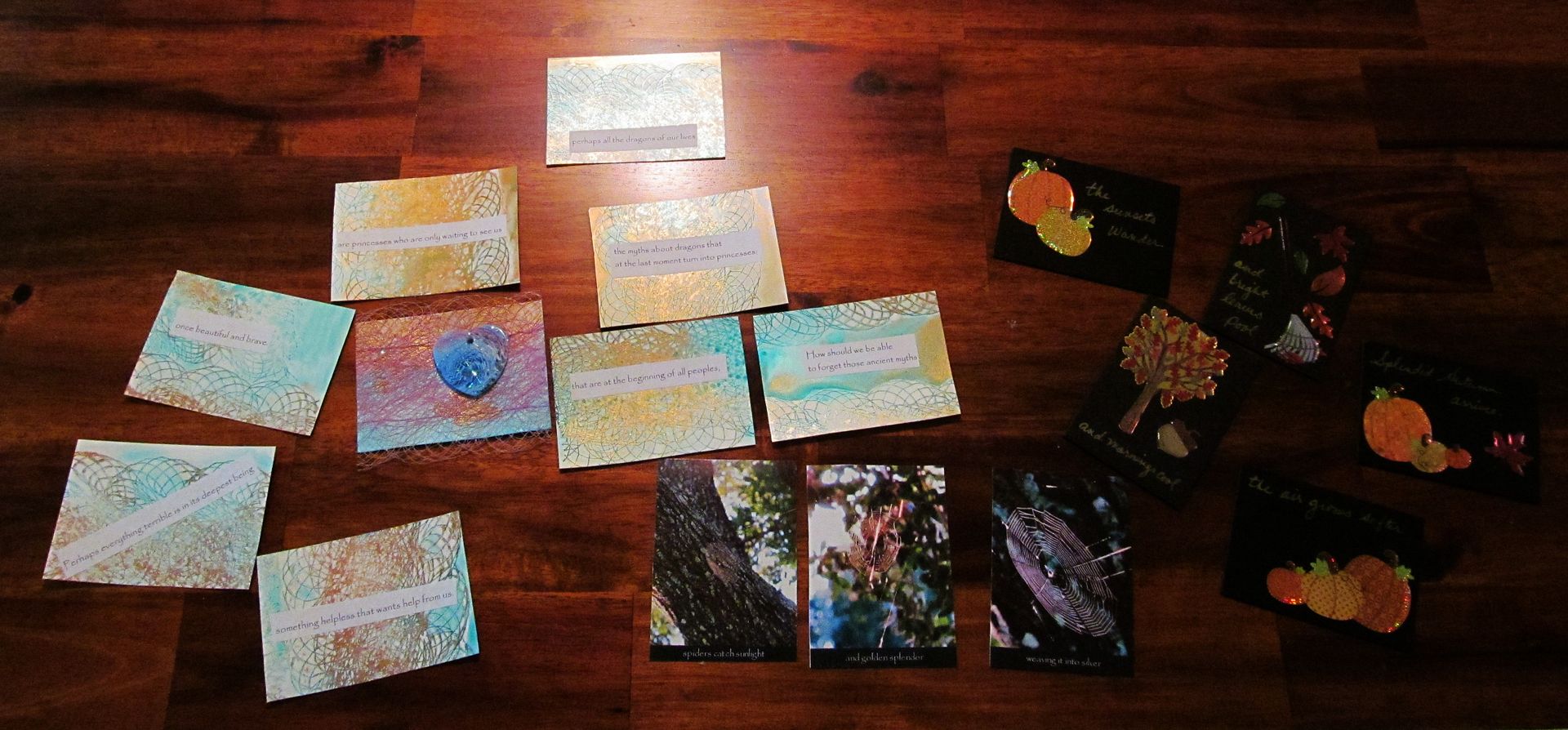 I wrote two poems and immortalized part of a letter written by Rainer Maria Rilke by combining it with a new watercolor/Yupo technique I invented.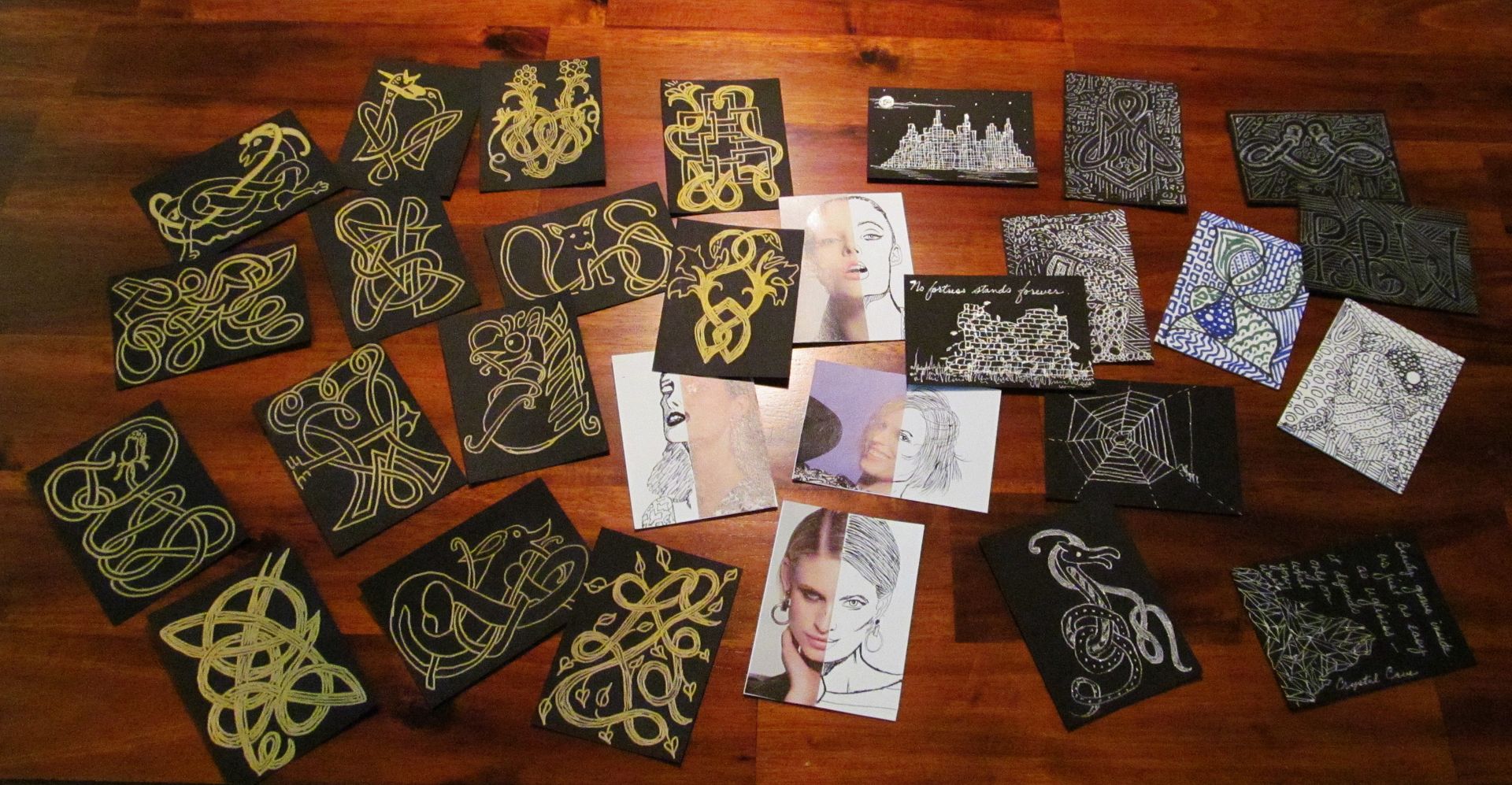 I dove back into pen and ink drawing, and then focused on Celtic knot patterns. A few I copied from Lori Irish's
Celtic patterns book
(which is fabulous, btw), but I redesigned several and then started drafting my own knots. I also went mildly nuts over using metallic inks to draw images on different types of black paper.
I didn't hold myself back from the camera, either, but made tons of pic ATCs while photographing an antique shop, a trip to the flea market, my pets and anything else that caught my eye. For the very first time I realized I hadn't included any black and white photos in my project, so I did two three-card series with those.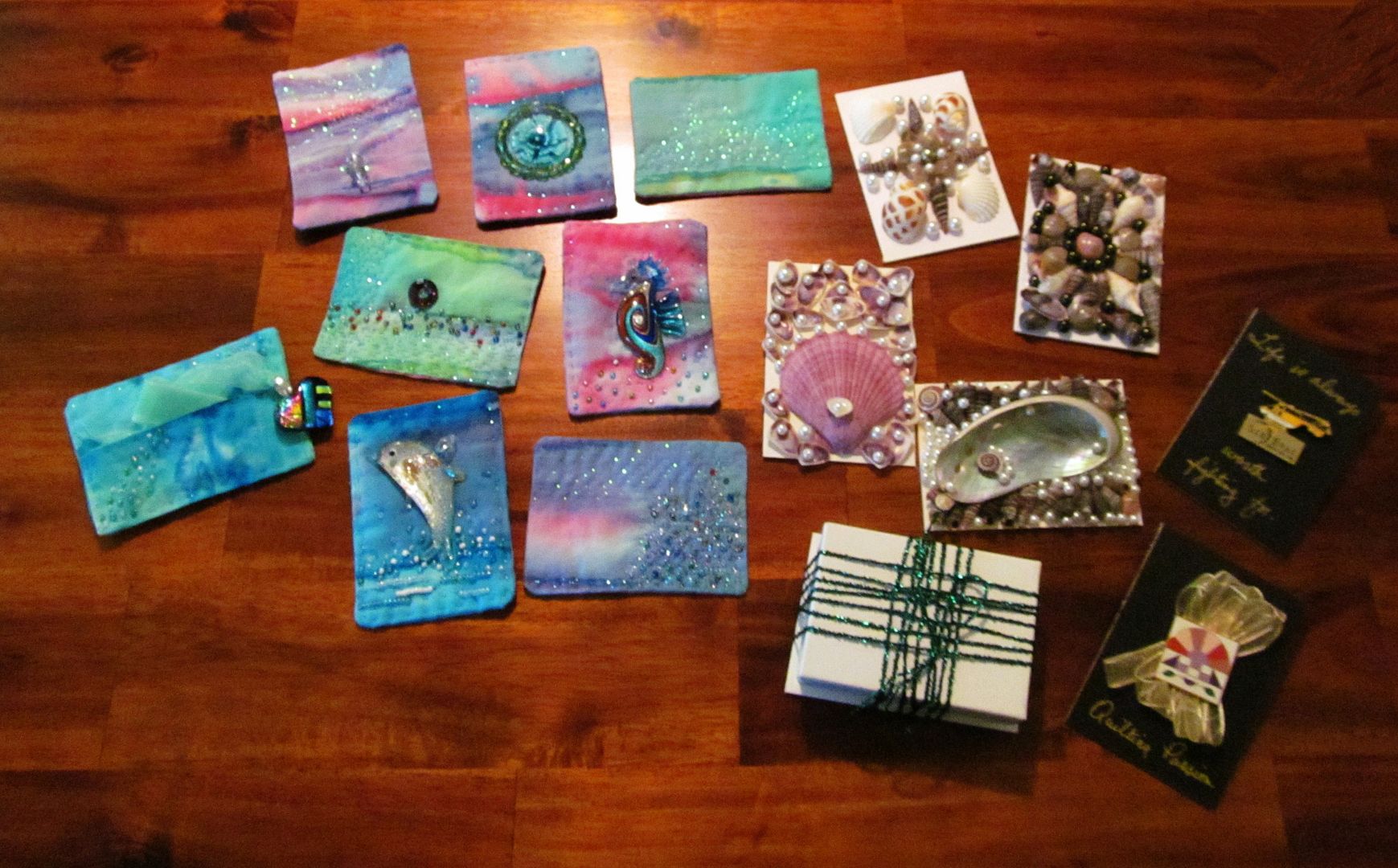 I quilted with a piece of dreamy-colored batik fabric to make a sea-themed series of cards, and then took it to the next level by creating art with some of the seashells I've collected over the years. I also made a piece of jewelry and boxed it up as -- excuse the pun -- a gift card.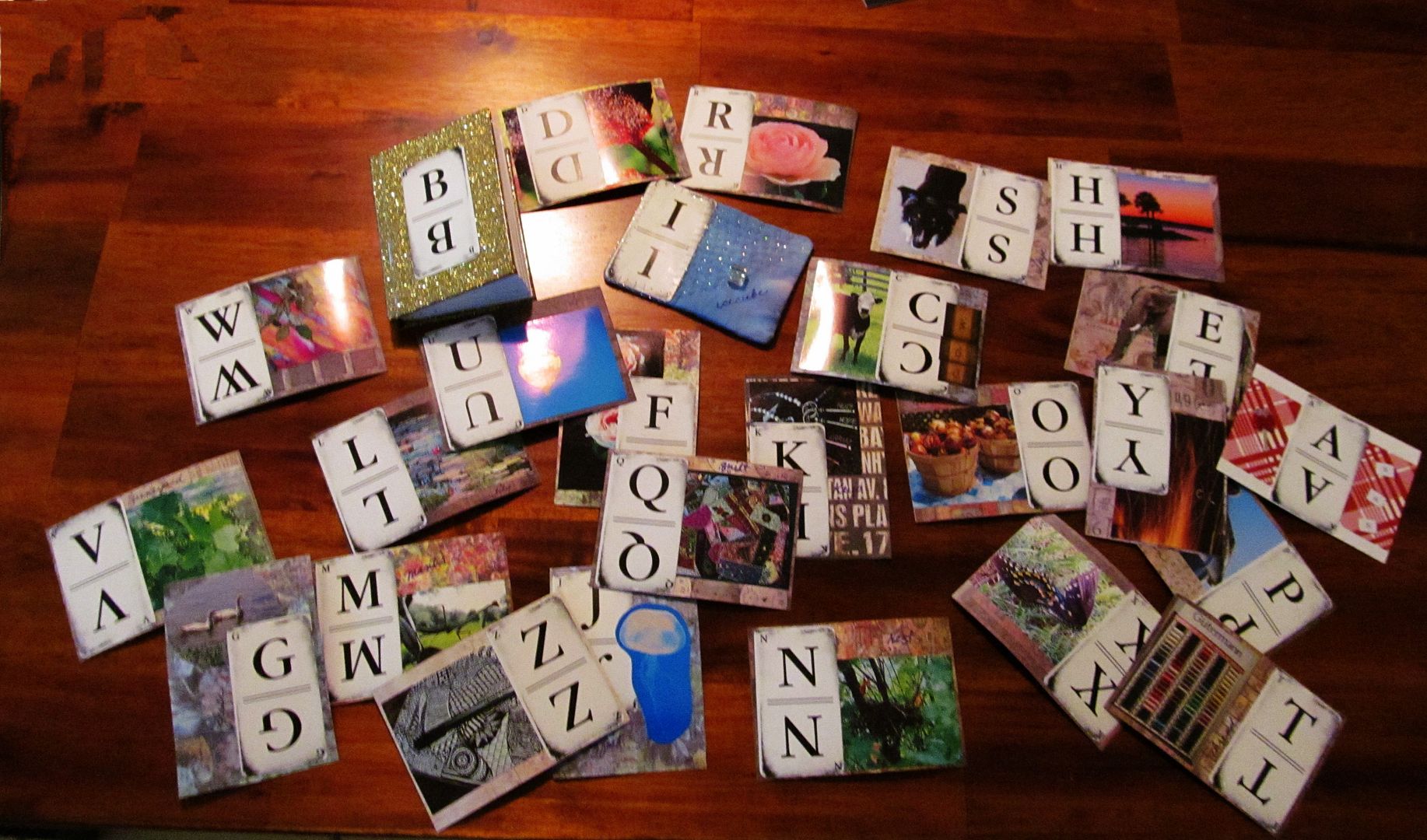 Tim Holtz's pack of idea-ology ABC cards naturally inspired an A to Z photo collage series. I started with A is for apple, adding some cute bits to it as I intended to make it a mixed media series with traditional alphabet symbols, and then I stopped and rethought it. I'm not especially an A is for Apple thinker, and I wanted it to be more personal. So I broke out the photo archives and used my own images to illustrate the letters. I also wrote, sketched and even painted in a tiny journal for nine days and used that as the B card (for book, naturally.) I was rather candid in the journal, too, so whoever receives it when I do the project giveaway will have some interesting info. I included a peek at the first cover art for
Nightbound
(undergoing some tweakage at the moment) as well as my current opinions of some editors and two secrets about Yours Truly that have never been made public. And in case anyone has their hopes up, neither secret is a scandal, and I didn't write anything I wouldn't say to the editors' face, sorry.
On days when my hands gave me grief I made sticker and sticker/collage cards, and paid homage to birds, Autumn and the UK in the process.
I knew when I blew through the 600's in the ATC index I've been keeping that I'd made a lot of cards, but I didn't know the count would pass 200 until I laid them out to take pics this morning. I'm now caught up and then some on my project quota, so I'm giving myself a couple of days off to think about what I want to do in October (but if anyone annoys me again I may start early.) And here's one final look at the whole month's worth of cards: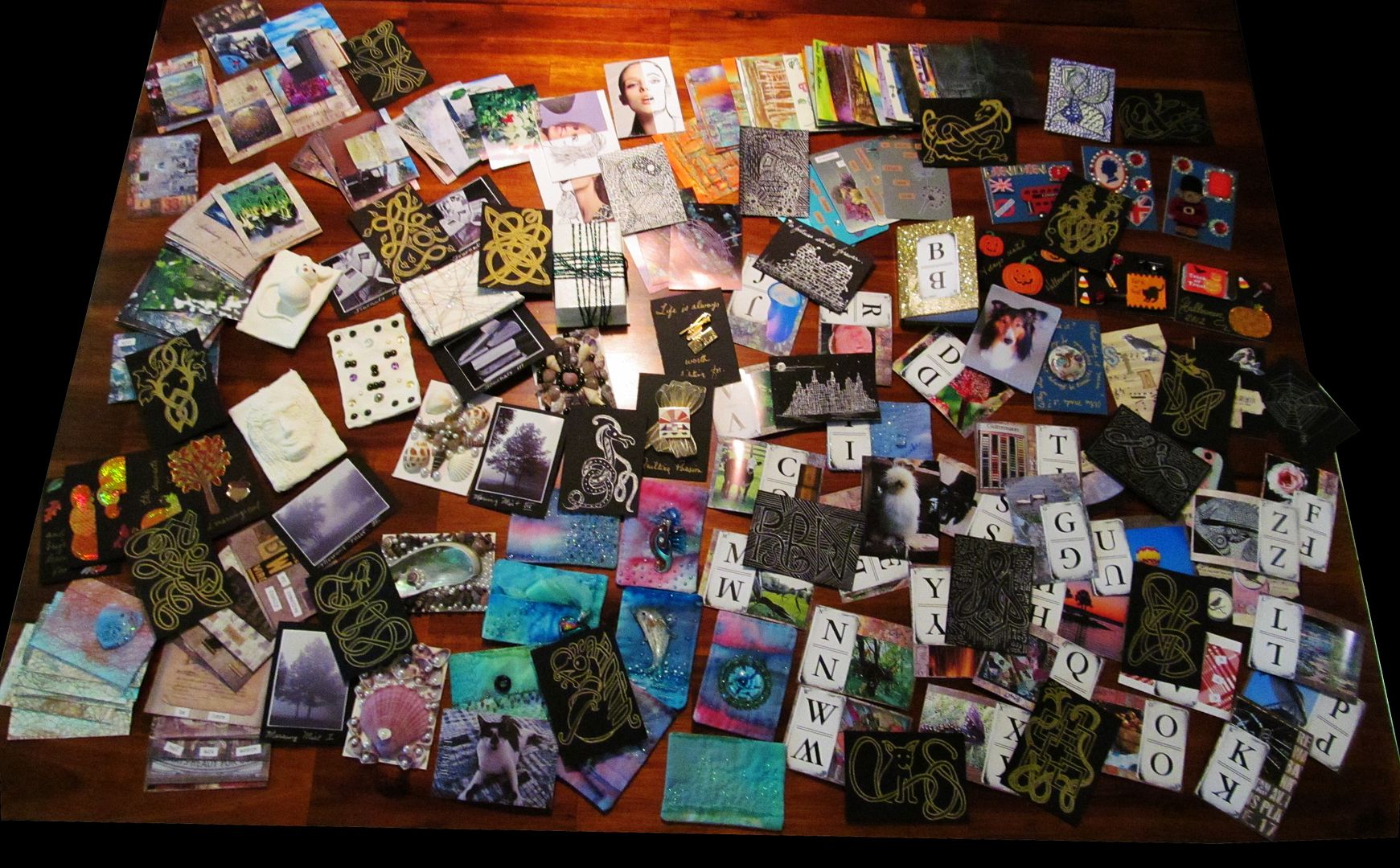 Art is wonderful therapy, and there wasn't a day this month that I felt stalled or overwhelmed by the project. On the contrary, it saved my sanity and kept the world at bay when I most needed to get my head in the right place. Honestly I didn't think about how much I was doing; I immersed myself in the ideas that came streaming out of me and let them sweep me off.
I feel I learned a lot this month, too; working with oil pastels and watercolor with such success has me thinking about resists differently (I've never much cared for messing with them; now I want to try a dozen different techniques I've read about.) Celtic knots look so complicated I never imagined I'd draft my own, yet practice has given me more confidence to try. Artistically this was a stellar month for me, and if all continues to go well I feel certain I'll finish the project by December 31st.